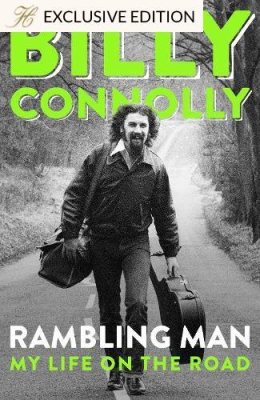 Rambling Man: Exclusive Edition
Hardback 
Published on: 12/10/2023
Synopsis
Being a Rambling Man was what I always wanted to be, to live the way I damn well pleased. I've met the weirdest and most wonderful people who walk the Earth, seen the most bizarre and the most fantastic sights - and I've rarely come across something I couldn't get a laugh at. I don't think I've ever had a bad trip. Well, apart from in the 1970s, but that's a whole other story... When Billy set out from Glasgow as a young man he never looked back. He played his banjo on boats and trains, under trees, and on top of famous monuments. He danced naked in snow, wind and fire. He slept in bus stations, under bridges and on strangers' floors. He travelled by foot, bike, ship, plane, sleigh - even piggy-backed - to get to his next destination. Billy has wandered to every corner of the earth and believes that being a Rambling Man is about more than just travelling - it's a state of mind. Rambling Men and Women are free spirits who live on their wits, are interested in people and endlessly curious about the world. They love to play music, make art or tell stories along the way but, above all, they have a longing in their heart for the open road. In his joyful new book, Billy explores this philosophy and how it has shaped him, and he shares hilarious new stories from his lifetime on the road. From riding his trike down America's famous Route 66, building an igloo on an iceberg in the Arctic, playing elephant polo (badly) in Nepal and crashing his motorbike (more than once), to eating witchetty grubs in Australia, being serenaded by a penguin in New Zealand, and swapping secrets in a traditional Sweat Lodge ritual in Canada, Rambling Man is a truly global adventure with the greatest possible travel companion.
Publisher:

John Murray Press

ISBN:

9781399814775

Number of pages:

352

Dimensions:

240 x 156 mm

The best yet from Connolly
Tall Tales and Wee Stories and Windswept and Interesting were a good build up for what is the best yet from Billy as he takes us with him on some of his hi...
READ MORE


Another great book
Really a fun book, informative and insightful, 10 out of 5


Brilliant
A fun trip down Billy's own memory lane with entertaining stories hilarious anecdotes and words of comical wisdom from a life well lived. Many a good ch...
READ MORE